From the desk of Jing Ning
Thoughts on the current market environment, the framework it provides for value stocks and the historical context for their performance.
It is a widely held belief that China is a growth market where a growth strategy would consistently outperform, while the reality is quite different. The Chinese stock market rotates between value and growth regularly. Since the Global Financial Crisis in 2008, value meaningfully outperformed growth in 2008, 2009, 2011, 2014 and 2018 while growth largely outperformed value in 2013, 2017 and 2019.
I believe there are three underlying reasons behind the Chinese stock market swings between growth and value:
There is too much cyclicality in the economy (low visibility, short and sharp cycles, tough macro)
Fierce competition and constant policy changes make it difficult for growth stocks to sustain their momentum
Investors' preference for growth is a double-edged sword. As more and more investors chase growth, it becomes a crowded segment, which leaves little safety margin for investors.
This leads to the next question: In what market environment does growth outperform value? We have seen two scenarios supportive of such outperformance
A bull market coupled with favourable investor sentiment which spurs a beta rally, such as the one we saw recently in 2017;
Growth segment re-rating in a mediocre macro environment, where overall the market remains largely flat, and the growth outperforms purely due to multiples expansion, which is what we saw in 2013 and now in 2019.
The first scenario is easy to understand, while the second is a result of a delicate balance between "not so weak growth" and "easing monetary policy". The difference between the underlying macroeconomic backdrop between the two scenarios, also explains why we saw a much stronger magnitude of growth outperformance vs. value in 2017 than in 2013 and year-to-date 2019.
After a year-to-date growth rally, it's reasonable for investors to ask whether we are close to an inflection point, and when will value start its mean reversion against growth?
This is the million-dollar question from investors in the Fidelity China Fund. Recently, the debate about value as investment style has been red hot, after value experienced a strong bounce back globally in September. It reflects that investors are becoming cautious towards other strategies (growth, Quality, Low Volatility) and asset classes given their expensive valuations.
It is always hard to pin down the exact timing of the inflection point as the market never simply repeats itself. Nonetheless, focusing on 1) the historical trend in valuation premiums between growth vs. value and 2) macro catalysts that terminate a growth rally, can help identify scenarios where value may outperform.
At current levels, the valuation premium between growth and value is already quite hefty.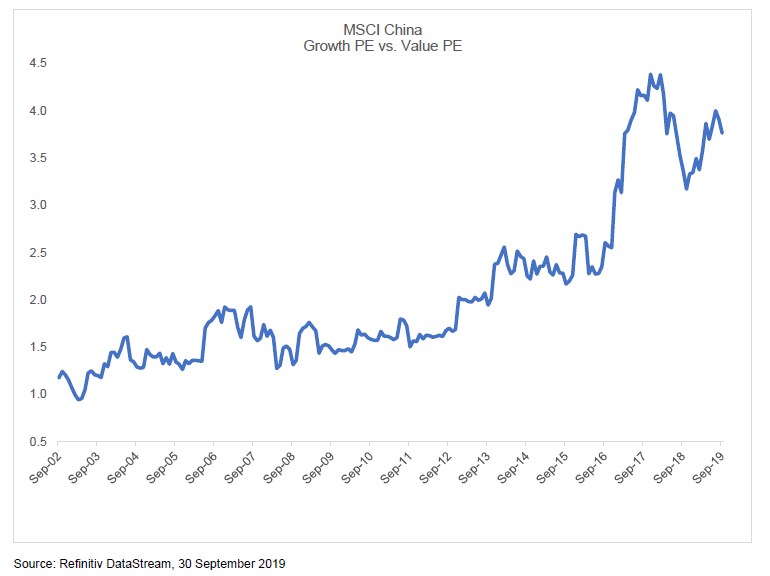 What may happen to halt a growth rally?
In 2014, the Chinese central bank's policy easing spurred a reflation trade that put a pause on the growth rally seen in 2013. Subsequently, in the latter half of 2014, value outperformed. led by financials and cyclical stocks. 2017's growth rally was terminated by recession fears triggered by a US-China trade war.
In the current mediocre macroeconomic environment, it is challenging to expect a sustainable outperformance of growth as it would again demand a very fine balance between economic growth and monetary policy easing. Both scenarios of stronger-than-expected as well as weaker-than-expected economic cycles can end a growth rally.
What do investors own in the China 'value basket'
The Fidelity China Fund aims to find value opportunities across the length and breadth of Chinese equities. There is a component of typical value themes such as financials and cyclicals in the Fund. One common concern I hear from investors about China is the cyclical nature of earnings and leverage situation. In the past couple of years, we have seen structural improvement in both earnings' quality and balance sheet strength among Chinese cyclicals. This has led to a narrowing gap in metrics such as return on equity, net margin and interest expense ratio for cyclicals vs consumer sectors. The supply-side reforms over the last few years in many cyclical sectors has improved the supply/demand balance, and their earnings are less correlated with the macro cycle. It's also interesting to notice that even with a better return profile and stronger balance sheet, Chinese cyclical stocks discounted to consumer stocks have reached historical highs.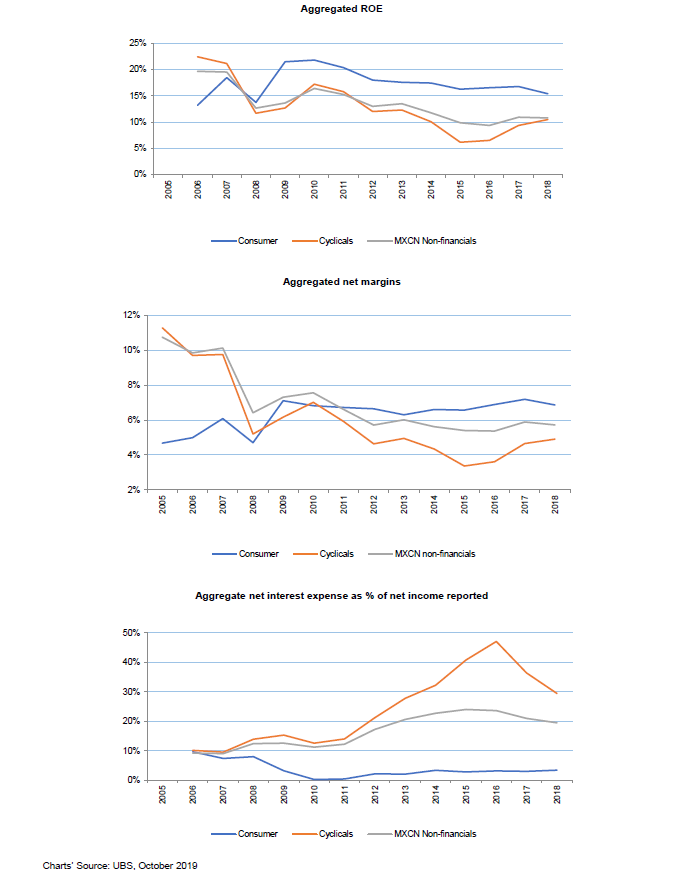 The Fidelity China Fund also goes beyond a 'typical value portfolio' with its exposure to undervalued stocks in typical growth sectors such as technology and health care. Unlike the developed market, where value basket is dominated by traditional financial/cyclical names, the Chinese value story has an interesting twist as many growth companies tend to rotate in and out of value basket. As at 30 September 2019, the Fund is trading at 9.3x PE vs 12.2x for the MSCI China 10% Capped Index and at 1.1x price to book vs. 1.5x for the index.
I would also like to draw attention to a rare attribute of China value basket, its dividend yield, which is often overlooked. Fidelity China Fund is offering a portfolio dividend yield of 3.7% as at 30 September 2019.
With declining earnings volatility and improved balance sheets, cyclical companies in China can afford to pay higher dividends to reward shareholders - and they are doing it. Chinese financials are also a major source of yield. In a race to zero/negative rates globally, will investors switch their attention back to equity income? If you believe they will, the China value category becomes more attractive to retail and institution investors globally who require income.
I am grateful for our clients' faith in my value-contrarian strategy, and for their support for the Fidelity China Fund.
Performance as at 30 September, net of fees, AUD (%)

This document is issued by FIL Responsible Entity (Australia) Limited ABN 33 148 059 009, AFSL No. 409340 ("Fidelity Australia"). Fidelity Australia is a member of the FIL Limited group of companies commonly known as Fidelity International.
Retail investors should not rely on any information in this document without first seeking advice from their financial adviser. This document has been prepared without taking into account your objectives, financial situation or needs. You should consider these matters before acting on the information. You should also consider the relevant Product Disclosure Statements ("PDS") for any Fidelity Australia product mentioned in this document before making any decision about whether to acquire the product. The PDS can be obtained by contacting Fidelity Australia on 1800 119 270 or by downloading it from our website at www.fidelity.com.au. This document may include general commentary on market activity, sector trends or other broad-based economic or political conditions that should not be taken as investment advice. Information stated herein about specific securities is subject to change. Any reference to specific securities should not be taken as a recommendation to buy, sell or hold these securities. While the information contained in this document has been prepared with reasonable care, no responsibility or liability is accepted for any errors or omissions or misstatements however caused. This document is intended as general information only. This material may contain statements that are "forward-looking statements", which are based on certain assumptions of future events. Actual events may differ from those assumed. There can be no assurance that forward-looking statements, including any projected returns, will materialise or that actual market conditions and/or performance results will not be materially different or worse than those presented. The document may not be reproduced or transmitted without prior written permission of Fidelity Australia. The issuer of Fidelity's managed investment schemes is FIL Responsible Entity (Australia) Limited ABN 33 148 059 009.

© 2019 FIL Responsible Entity (Australia) Limited. Fidelity, Fidelity International and the Fidelity International logo and F symbol are trademarks of FIL Limited.