Rising rates aren't always bad for 'low vol' strategies
Rules of thumb are attractive, but that doesn't mean they always work. For example, rising bond yields don't automatically mean bad news for low volatility strategies; understanding why requires a closer look at the driving forces to each cycle of rate increases.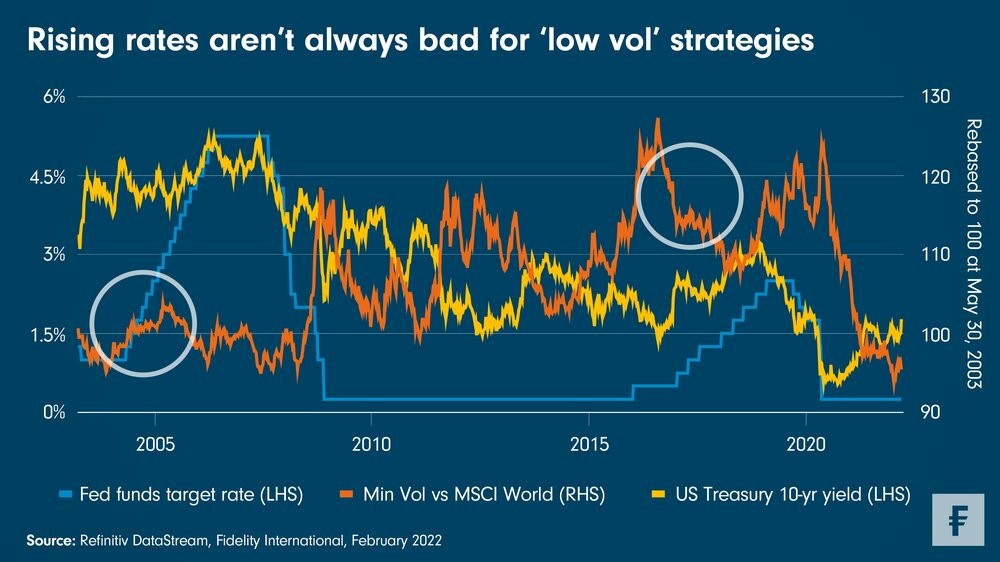 One common presumption about low volatility investment strategies is that they will underperform during periods of rising interest rates. This is because they are often biased towards rate-sensitive defensive sectors like healthcare, telecommunications, consumer staples, and, more recently, tech.
But that is not always the case. As the US Federal Reserve eyes a new cycle of interest rate increases, it's worth taking a look at what happened the last time around. Indeed, the historical performance of the MSCI World Minimum Volatility Index versus the MSCI World Index during the last two US rate hiking cycles reveals a more nuanced picture. Contrary to conventional wisdom, the 'Min Vol' index actually outperformed through the early and mid-stages of the 2004-2005 hiking cycle, before drifting lower towards the end. In contrast, the 'Min Vol' index underperformed for most of the 2016-2018 hiking cycle.
Goldilocks scenario
The difference? The 2004-2005 cycle was a steady tightening of policy, which helped anchor long-term Treasury yields and the US Dollar index. This was a Goldilocks scenario for global equities, including low volatility stocks. By contrast, in 2016-2018, Treasury yields roughly doubled while real yields remained stable, reflecting a rise in inflation that outpaced real growth. The resulting 'hunt for growth' led defensive sectors to underperform.
So what should investors expect from the coming cycle of rate hikes? An extensive monetary tightening profile is already priced into markets. But there are good reasons to think there is a limit to how far and how fast interest rates and long-term bond yields can rise, given the 'Catch-22' dilemma facing central banks. As Fidelity CIO Andrew McCaffrey explains here, GDP growth appears to have already peaked and economies remain acutely sensitive to higher financing costs due to a huge debt burden. Therefore, while inflation remains an issue, it is likely that the tightening cycle won't be as steep as markets expect.
Even if rates do rise quickly, different types of 'low vol' strategies will respond in different ways. This will depend crucially on how a low volatility portfolio is built and managed. For example, integrating forward-looking research inputs could help to pre-emptively avoid stocks with increasing rate risk, while the sector composition of dynamically run strategies will shift over time as parts of the market with increasing volatility are reduced. Investors can also take a regional approach to low volatility equities, with a focus on parts of the world - like Europe - where there is less upside risk to bond yields for particular 'low vol' sectors.
This document is issued by FIL Responsible Entity (Australia) Limited ABN 33 148 059 009, AFSL No. 409340 ("Fidelity Australia"). Fidelity Australia is a member of the FIL Limited group of companies commonly known as Fidelity International.

This document is intended for use by advisers and wholesale investors. Retail investors should not rely on any information in this document without first seeking advice from their financial adviser. This document has been prepared without taking into account your objectives, financial situation or needs. You should consider these matters before acting on the information. You should also consider the relevant Product Disclosure Statements ("PDS") for any Fidelity Australia product mentioned in this document before making any decision about whether to acquire the product. The PDS can be obtained by contacting Fidelity Australia on 1800 119 270 or by downloading it from our website at www.fidelity.com.au. The Target Market Determination (TMD) for Fidelity Australian product(s) can be found at www.Fidelity.com.au. This document may include general commentary on market activity, sector trends or other broad-based economic or political conditions that should not be taken as investment advice. Information stated herein about specific securities is subject to change. Any reference to specific securities should not be taken as a recommendation to buy, sell or hold these securities. While the information contained in this document has been prepared with reasonable care, no responsibility or liability is accepted for any errors or omissions or misstatements however caused. This document is intended as general information only. The document may not be reproduced or transmitted without prior written permission of Fidelity Australia. The issuer of Fidelity's managed investment schemes is FIL Responsible Entity (Australia) Limited ABN 33 148 059 009. Reference to ($) are in Australian dollars unless stated otherwise.
© 2022 FIL Responsible Entity (Australia) Limited. Fidelity, Fidelity International and the Fidelity International logo and F symbol are trademarks of FIL Limited.