The case for global equities
Updated September 2021
Access to a world of investment opportunities
Australian equities are a popular choice for investors, currently making up the largest share (35%) of SMSF funds under management. But by limiting your portfolio to domestic shares, you're missing out on exposure to a huge number of the world's most successful companies. Global equities can also offer diversification and significant returns from regions and industries positioned for growth. With more than 41,000 companies listed on stock exchanges worldwide, investing globally sometimes feels out of reach and too complicated. How do you access opportunities and how can you find the best outcomes for performance and risk?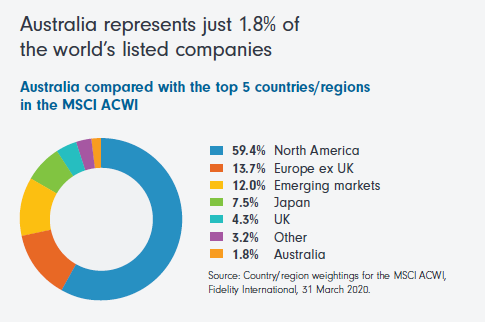 The power of household brands
Many global brands play a part in our everyday lives. You might start your day by checking messages on your smartphone from Apple or Samsung. On your way to the office, you'll tap your Visa card for a takeaway coffee to enjoy as you get comfortable in front of your Microsoft laptop, powered by an Intel chip to help you multi-task through the working day. Later on you could be enjoying an episode or two of your new favourite series on Netflix or ask your Google Home to put on a Spotify playlist while you cook up a feast. All around the world, billions of people go about their day using products and services from iconic brands like these. Their success in homes, shops and offices fuels a significant part of the US$85 trillion1 global market in shares. Investing in global equities is an opportunity to harness potential returns from this market.
Staying local carries risks
When it comes to success stories, the ASX includes many brands that have made their mark. Companies like BHP and Westpac are among the largest in the ASX by market capitalisation. These businesses belong to two industries that make up just over half of the ASX – financials (28%) and materials (18.3%). So a portfolio heavily weighted to Australian equities can carry concentration risk and limit diversification. These risks can be even more significant for two sectors vulnerable to regulatory change (financials) and trade (materials).
Financials and materials dominate the S&P/ASX200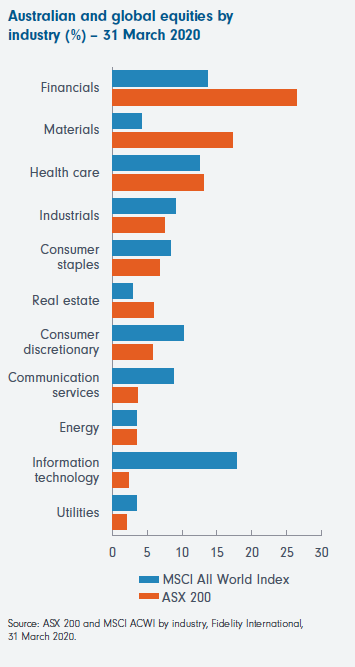 Harnessing returns from booming industries
Thanks to our ageing population and the continuing demand for all things digital, health care and technology are two sectors with growth potential. Only a fraction of companies listed on the ASX come from these industries, compared with global equity markets. The current top four holdings for the MSCI ACWI are all technology companies – Apple, Microsoft, Amazon and Facebook – and make up almost 10% of the entire index.2
Driven by robust performance from technology giants like these, and other major household brands, global equities have come back strongly since the Global Financial Crisis (GFC).
Global share markets have outperformed Australian equities post-GFC
Striking a balance between global and domestic
An allocation to both Australian and global equities can bring investors a broader choice of investment opportunities. Importantly, this blended approach to equities can also reduce volatility and enhance potential portfolio returns.
Because assets don't always have a strong correlation to each other, global and Australian equities can both play an important role in diversifying the overall risk of the portfolio. Equities can be expected to make up nearly half of assets in a typical balanced portfolio, with an even split between global (25%) and Australian (25%) equities.3
The active advantage for risk and return
The Fidelity Global Equities Fund holds 80 to120 companies, including household names from across the world. Amit Lodha, the Fund's portfolio manager is backed by a 400+ team of investment professionals. Together they explore the whole equities universe and use rigorous research to find the winners of tomorrow – companies with strong management and compounding returns in growing industries.
As well as applying disciplined analysis to picking these winners, the portfolio is carefully weighted for diversification across countries, sectors and companies. This further supports our goal of delivering sustained returns and managing downside risk for investors.
Recommended as a long-term core holding, we aim to outperform the benchmark over a five to seven-year timeframe.
Delivering returns for investors for more than 20 years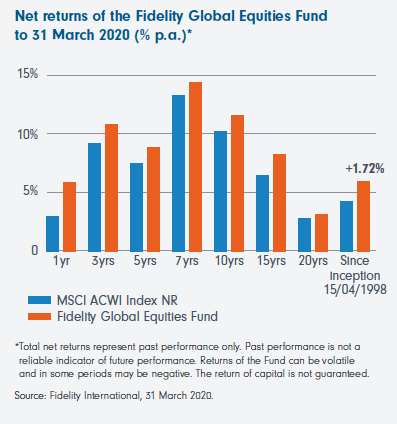 Emerging markets can enhance global equity returns
Emerging markets represent developing economies from across the world – Africa, Asia, Eastern Europe, Latin America and the Middle East. These countries contribute more than half of global GDP4 and this share is expected to rise to more than three-quarters by 2040.5 Despite this, emerging markets account for just a fraction of most Australian investment portfolios.
Exposure to carefully selected companies from emerging market economies can provide investors with even greater potential for outperformance from global equities. The Fidelity Global Equities Fund includes an allocation to a number of emerging market equities that meet the exacting standards of our research team and portfolio manager.
"Identify the industries of the future and the stronger management teams within those industries. They will be the best companies to make money for investors. " Amit Lodha, Portfolio Manager Fidelity Global Equities Fund
1. OECD Report 2019.
2. MSCI ACWI Index – top 10 holdings % of index, Fidelity International, 31 March 2020.
3. LonsecManaged Portfolio Guide, August 2019.
4. Fidelity International and International Monetary Fund, World Economic Outlook Database, March 2020.
5. PwC World 2050 Report.
This document is issued by FIL Responsible Entity (Australia) Limited ABN 33 148 059 009, AFSL No. 409340 ("Fidelity Australia"). Fidelity Australia is a member of the FIL Limited group of companies commonly known as Fidelity International.

This document is intended for use by advisers and wholesale investors. Retail investors should not rely on any information in this document without first seeking advice from their financial adviser. This document has been prepared without taking into account your objectives, financial situation or needs. You should consider these matters before acting on the information. You should also consider the relevant Product Disclosure Statements ("PDS") for any Fidelity Australia product mentioned in this document before making any decision about whether to acquire the product. The PDS can be obtained by contacting Fidelity Australia on 1800 119 270 or by downloading it from our website at www.fidelity.com.au. The Target Market Determination (TMD) for Fidelity Australian product(s) can be found at www.Fidelity.com.au. This document may include general commentary on market activity, sector trends or other broad-based economic or political conditions that should not be taken as investment advice. Information stated herein about specific securities is subject to change. Any reference to specific securities should not be taken as a recommendation to buy, sell or hold these securities. While the information contained in this document has been prepared with reasonable care, no responsibility or liability is accepted for any errors or omissions or misstatements however caused. This document is intended as general information only. The document may not be reproduced or transmitted without prior written permission of Fidelity Australia. The issuer of Fidelity's managed investment schemes is FIL Responsible Entity (Australia) Limited ABN 33 148 059 009. Reference to ($) are in Australian dollars unless stated otherwise.
© 2022 FIL Responsible Entity (Australia) Limited. Fidelity, Fidelity International and the Fidelity International logo and F symbol are trademarks of FIL Limited.
Ready to invest in the Fidelity Global Equities Fund?
Discover now