What are the main approaches to ESG?
Investors can implement Environmental, Social and Governance (ESG) considerations into their portfolios in a host of ways, stretching from active ownership to impact investing.
One way to think about the different approaches is as a dial, from 'less ESG' to 'more ESG'.
This is a rough guide and there are gradations within, and overlaps between, categories.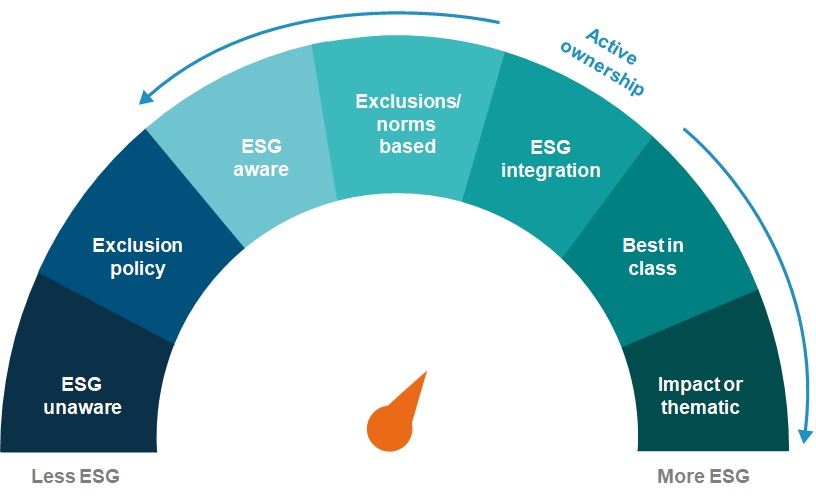 For illustration purposes only. Source: Fidelity International
An overview of ESG terminology
ESG unaware: This is a stage where investors place no positive value on ESG-related issues. They may consider certain risk management or regulatory factors somewhat relevant to ESG, such as the potential for environmental litigation, however this is based on avoiding loss, rather than the positive shareholder benefits of incorporating ESG into investment decisions.
Exclusion policy: This excludes investment sectors that are contrary to the investor's ESG specific criteria, such as avoiding weapons or tobacco stocks, or investments in countries with poor human rights records. Outside of these excluded categories, investors apply a standard investment approach.
Active ownership: Investors seek to influence companies on many different levels, so this includes a broad spectrum of interaction with company boards and straddles many categories.
Investors can take an engagement approach, where they monitor the ESG performance of companies and engage in constructive shareholder dialogues to ensure progress.
A consulting approach is a form of engagement where larger institutional investors and shareholders are able to pursue 'quiet diplomacy', attempting to influence the company through regular meetings with top management, exchanging information and developing a trusted adviser relationship.
Activism is the most aggressive form of engagement. It is a pressure-based technique, involving strategic voting in support of an issue or to bring about governance changes. This approach can be pursued publicly to apply more force. Increasingly, we are seeing investors use activist methods for environmental and social-related issues, rather than purely governance.
ESG aware: Investors recognise the positive contribution that ESG considerations can make to investment outcomes. This is a broad category and there are varying degrees of the incorporation of ESG elements into investment decisions.
Exclusion / norms based: This is a more comprehensive type of negative screening that excludes investments in companies that do not meet widely-accepted norms, such as the United Nations (UN) Global Impact principles, Kyoto Protocol, or the UN Declaration of Human Rights.
ESG integration: The consistent fundamental analysis of environmental and social issues, in order to identify additional sources of risk and opportunity, and deliver better overall investment decision-making. Statistical methods can also be used to establish a predictive correlation between the sustainability aspects of a company's performance and financial factors.
Best-in-class: Investors actively select companies to invest in based on a set of ESG criteria or choosing from a sub-set of the best practitioners in a sector. In practice, this can involve ranking the potential investment population by the criteria, then selecting the best performers from each characteristic, or picking several investments that feature in the top group of the ranking.
Impact or thematic: This refers to investments made with the intention to generate measurable and beneficial social or environmental impacts alongside a financial return. This differs from traditional philanthropy, as it intends to earn a financial return. It often follows themes such as renewable energy, water treatment or education provision.
Integrating ESG into your investing
These approaches to ESG demonstrate what a broad church it is.
One element that binds all these forms together is the careful consideration, by investors, of environmental, social and governance effects on stakeholders. This requires investors to integrate, to some degree, ESG factors into the investment process.
Such integration could take the shape of a separate ESG advisory group informing the investment decision makers, or an ESG function embedded in the investment process.
Either way, ESG investing requires investors to conduct an assessment of relevant risks and opportunities as part of their financial analysis, to allocate capital in a society-conscious way.
This document is issued by FIL Responsible Entity (Australia) Limited ABN 33 148 059 009, AFSL No. 409340 ("Fidelity Australia"). Fidelity Australia is a member of the FIL Limited group of companies commonly known as Fidelity International.

This document is intended for use by advisers and wholesale investors. Retail investors should not rely on any information in this document without first seeking advice from their financial adviser. This document has been prepared without taking into account your objectives, financial situation or needs. You should consider these matters before acting on the information. You should also consider the relevant Product Disclosure Statements ("PDS") for any Fidelity Australia product mentioned in this document before making any decision about whether to acquire the product. The PDS can be obtained by contacting Fidelity Australia on 1800 119 270 or by downloading it from our website at www.fidelity.com.au. The Target Market Determination (TMD) for Fidelity Australian product(s) can be found at www.Fidelity.com.au. This document may include general commentary on market activity, sector trends or other broad-based economic or political conditions that should not be taken as investment advice. Information stated herein about specific securities is subject to change. Any reference to specific securities should not be taken as a recommendation to buy, sell or hold these securities. While the information contained in this document has been prepared with reasonable care, no responsibility or liability is accepted for any errors or omissions or misstatements however caused. This document is intended as general information only. The document may not be reproduced or transmitted without prior written permission of Fidelity Australia. The issuer of Fidelity's managed investment schemes is FIL Responsible Entity (Australia) Limited ABN 33 148 059 009. Reference to ($) are in Australian dollars unless stated otherwise.
© 2022 FIL Responsible Entity (Australia) Limited. Fidelity, Fidelity International and the Fidelity International logo and F symbol are trademarks of FIL Limited.