Climate change will shape this century's economic growth
Climate change, and the drive to reduce carbon emissions, must be incorporated into long-term capital market assumptions for complete picture of returns.
By Salman Ahmed, Global Head of Macro and Strategic Asset Allocation and Anna Stupnytska, Global Macro Economist.
Climate change, and the policies aimed at slowing it, will shape the path of economic growth this century.
Policymakers face a trade-off between the high upfront cost of moving quickly towards net-zero carbon targets, and the long-term physical damage to economies and societal cohesion caused by rising temperatures and extreme weather events if they delay action.
As a result, macroeconomic projections at the core of our capital market assumptions (CMAs) must incorporate both these physical climate risks and policy transition risks for a more complete picture of long-term returns in the 21st century.
Global macroeconomic growth has been fuelled by cheap sources of carbon-based energy for over a century. Transition risks refer to the effects of restructuring the economy, for example through new rules or surcharges that limit carbon emissions or through changes in consumer behaviour, to respond to the threat of climate change.
Physical risks refer to the effects of extreme weather events, such as hurricanes and floods, as well as the effects of gradual warming on our ecological system. The two are connected and cannot be considered in isolation. For example, physical risks decline relative to pessimistic warming scenarios, if measures to reduce emissions and slow temperature rises are taken decisively and early on.
Our approach
Our approach to incorporating climate risks into our CMA calculations starts by choosing a set of scenarios run by the climate modelling community, with different assumptions about greenhouse gas emissions, societal choices, technology, adaptation and mitigation policies.
We use the climate scenarios produced by the Network for Greening the Financial System (NGFS) - a network of central banks and supervisors - to get macroeconomic projections for key economies to 2100 under the chosen scenarios.
Chart 1. The NGFS scenario framework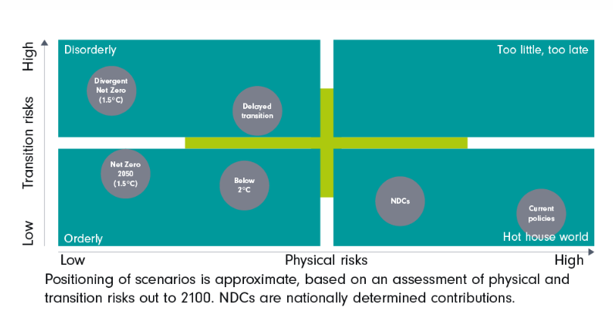 Source: Fidelity International, July 2021.
The scenarios are broadly divided into: "orderly", in which climate policies are introduced early minimising both transition and physical risks, "disorderly," in which policy changes are delayed increasing transition costs, and "hot house world," under which global efforts are insufficient to halt significant global warming leading to severe physical risks. We chose the NGFS framework to ensure that our tools are consistent with those used by central banks and supervisors to perform their own climate stress tests.
The GDP, inflation and interest rate trajectories produced by these scenarios will then be mapped onto our models for estimating the potential effect of transition and physical risks of climate change on long-term capital market assumptions and strategic asset allocation.
Climate change uncertainty and policy credibility
Nobody knows for sure what path climate change and emissions policy will take in the next decade, let alone the century. With this in mind, our aim is to create a flexible, scenario-led framework, to gauge possible investment implications in different states of the world.
In order to gauge the probability of different outcomes, we will be working closely with our bottom-up research colleagues - around 150 Fidelity analysts monitoring the actions of more than 3,000 companies - to narrow down the range of potential scenarios and change our working assumptions as the facts on the ground change, especially when it comes to assessing the credibility of a net-zero world.
This will allow us to gauge over time how our baseline scenario for GDP growth, inflation and rates, which feeds into our CMA models, needs to be adjusted depending on the progress made towards net zero at a corporate, national and global level.
This document is issued by FIL Responsible Entity (Australia) Limited ABN 33 148 059 009, AFSL No. 409340 ("Fidelity Australia"). Fidelity Australia is a member of the FIL Limited group of companies commonly known as Fidelity International.
This document is intended for use by advisers and wholesale investors. Retail investors should not rely on any information in this document without first seeking advice from their financial adviser. This document has been prepared without taking into account your objectives, financial situation or needs. You should consider these matters before acting on the information. You should also consider the relevant Product Disclosure Statements ("PDS") for any Fidelity Australia product mentioned in this document before making any decision about whether to acquire the product. The PDS can be obtained by contacting Fidelity Australia on 1800 119 270 or by downloading it from our website at This document may include general commentary on market activity, sector trends or other broad-based economic or political conditions that should not be taken as investment advice. Information stated herein about specific securities is subject to change. Any reference to specific securities should not be taken as a recommendation to buy, sell or hold these securities. While the information contained in this document has been prepared with reasonable care, no responsibility or liability is accepted for any errors or omissions or misstatements however caused. This document is intended as general information only. The document may not be reproduced or transmitted without prior written permission of Fidelity Australia. The issuer of Fidelity's managed investment schemes is FIL Responsible Entity (Australia) Limited ABN 33 148 059 009. Reference to ($) are in Australian dollars unless stated otherwise.
© 2021 FIL Responsible Entity (Australia) Limited. Fidelity, Fidelity International and the Fidelity International logo and F symbol are trademarks of FIL Limited.