The case for investing in China
Download PDF Download Infographic
Updated 1 March 2022
From manufacturing giant to consumer leader
After a rapid rise through the ranks of emerging markets, a new wave of economic growth is gathering strength in China. Demand for premium goods from high-income consumers is creating a whole new opportunity for home-grown brands to thrive. However, China faces difficult choices if it is to shake off a reputation among investors for volatility and heavy-handed regulation.
Figure 1. China is already the biggest contributor to global economic growth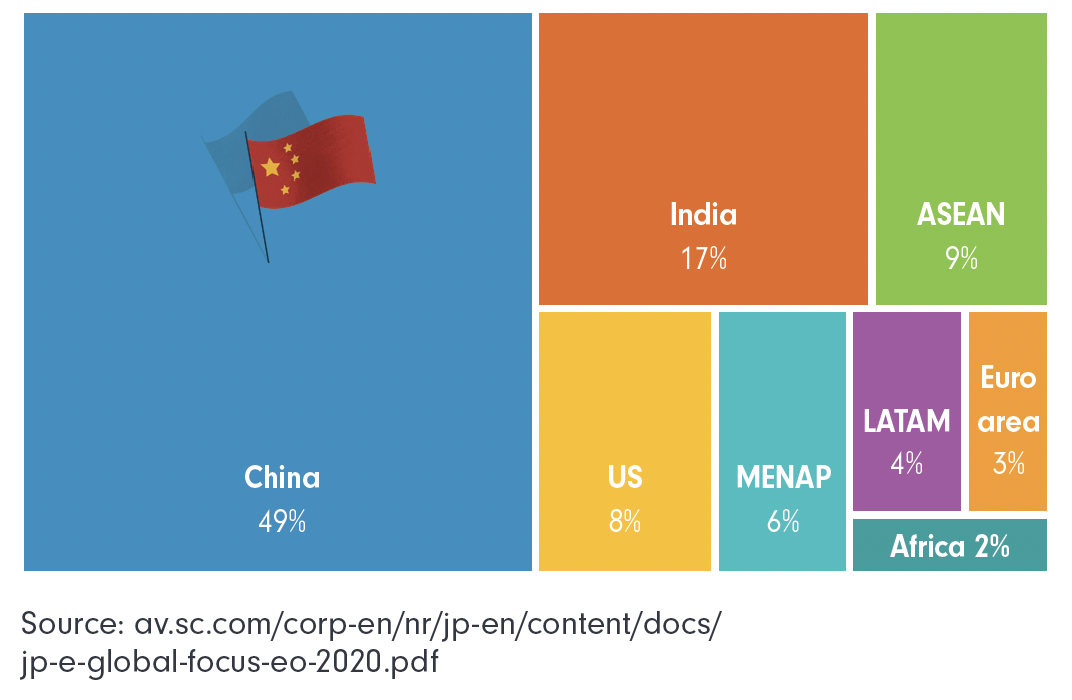 With an active allocation to Chinese equities, there is great potential to harness returns from companies capitalising on changing social dynamics and a shift towards innovation and services.
Moving to centre stage
For more than 40 years, the Chinese economy has been undergoing rapid transformation driven by a government-mandated shift from agriculture to manufacturing. With a 50% lift in GDP following the first wave of reforms in 1978, this growth momentum is propelling China closer to becoming the world's largest economy, a position it's expected to take over from the US by 2030.1
In terms of the scale of its investment universe, China is also making its presence felt. Not only is it home to the second-largest stock exchange, China's sector composition for listed companies is varied and complex.
This trend is set to continue, with the government putting support behind innovation and technology in manufacturing, with a focus on high-tech sectors such as aerospace, medical devices and robotics.
Figure 2. China's broad investment universe offers opportunities across growth industries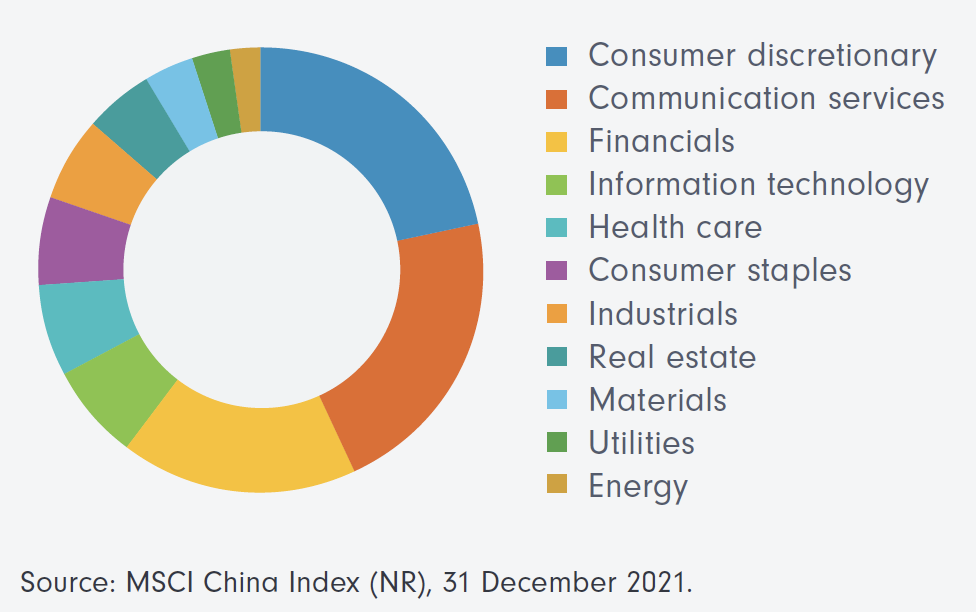 A new direction for growth – domestic consumer demand
While trade tensions with the US may be putting pressure on export revenue, it also turns the spotlight on China's growing domestic market as the new force for economic growth. The government recently announced a raft of measures to boost consumer spending and encourage exporters to focus on developing their own brands for domestic customers.2
Private consumption is already a significant contributor to economic growth, with spending expected to grow. Much of this spending spree will be driven by upper-middle-class and high-income households (refer Figure 3).
Figure 3. Income growth is concentrated in upper and high income households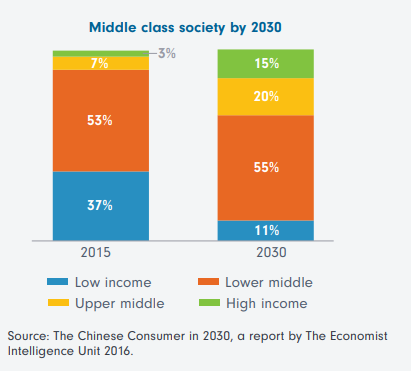 With this rise in disposable income comes a growing appetite for premium goods and services. China now accounts for one-third of global luxury consumption. In the past, this demand for premiumisation has been met by established international brands.
More recently, local businesses have been responding to this trend with the launch of home-grown premium brands. From dairy, to spirits, to home appliances, these Chinese companies are making the shift from 'Made in China' to 'Designed and Created in China.'
A shift from volume to quality in manufacturing
China has a strong policy agenda for lifting quality in manufacturing in the years ahead. In 2015, the government launched 'Made in China 2025', an initiative to evolve manufacturing in China from a focus on volume and cost-competition to a world-class output prized for innovation and quality.
The impact of this program can be seen across a swathe of industries and sectors, from the internet to robotics to pharmaceuticals. There are many compelling ideas hidden amid the multitude of smaller A-shares, as well as among H-shares and US-listed Chinese firms, particularly in the tech, healthcare and education sectors.
A 21st-century Silk Road: consolidating China's trade position
To prepare the way for uptake of premium goods and services in key export markets, China is also making considerable investments into trade channels with the launch of the Belt and Road Initiative (BRI) in 2013. Seen as a symbolic revival of the Silk Road trade route established over 2,000 years ago, this US$1 trillion infrastructure mega-project will enhance transportation routes and energy corridors to build stronger relationships with China's neighbours and beyond. These new transport links are also important for establishing the supply of commodities needed to support China's manufacturing output.
In more than 120 countries from South-East Asia to Eastern Europe and Africa, large scale construction projects are being planned and executed as part of the BRI strategy. Prominent projects include the Greek port of Piraeus, ports in Genoa, Porto and Rotterdam, as well as the deep-sea port Hambantota in Sri Lanka, the railway lines from Mombasa to Nairobi and the Pelješac bridge in Croatia.
As well as paving the way for greater economic cooperation, these projects also give China an opportunity to exploit its competitive advantage in infrastructure development. The BRI undertaking offering is a way for China to capitalise on the resources and capability it has developed during the domestic infrastructure boom of recent years.
The active advantage for risk and return
With its continuing economic growth trajectory and rising incomes, China certainly offers strong potential in the equity space. However, investors can also expect to encounter volatility and risk, making an active allocation compelling. With Fidelity, investors can access value and growth opportunities through our China, Asia and Global Equities Funds, or gain exposure via the Fidelity Global Emerging Markets Fund, which is available as a managed fund and an active ETF.
The Fidelity China Fund invests in a diversified portfolio of typically 70 to 100 Chinese companies listed in China, including Hong Kong. Portfolio Manager Jing Ning is supported by a 400-strong team of investment professionals worldwide. Through a rigorous portfolio construction process, the best ideas from our research are selected on the basis of their potential to benefit from China's growth dynamics.
As well as applying disciplined analysis to selecting these ideas, the portfolio is carefully weighted for diversification across sectors and companies. This further supports our goal of delivering sustained returns and managing downside risk for investors.
Recommended as a long-term holding, we aim to outperform the benchmark over a seven-year timeframe.
Expert access to the best investment opportunities in China
Navigating China's complex and dynamic investment landscape demands diligence and on-the-ground experience. Fidelity's on-the-ground experience in China reaches back for more than 20 years and we are one of the largest active managers in the country. Our proven stock selection process is informed by our team of local analysts focused on coverage of China.
Our in-depth research and extensive track record in this region provides Fidelity China Fund Portfolio Manager, Jing Ning, with a truly unique and independent view of factors shaping returns from Chinese companies. Based in Hong Kong, Jing Ning joined the Fidelity China Fund in October 2013 and brings more than 20 years of experience to the role.
"China is a unique emerging market, dominated by retail investors and subject to policy uncertainty. It is also home to the leaders of tomorrow. Having a tried and tested investment philosophy as well as on-the-ground research capabilities is an essential part of our investment process. A real understanding of the macro, the culture element and consumer behaviour is important to enabling investors to participate fully in the growth of the second largest global economy. " Jing Ning, Portfolio Manager Fidelity China Fund
References: 1. HSBC, The World in 2030, September 2018. 2. South China Morning Post, 'China's big plan to boost domestic consumption in midst of US trade war', August 2019.
* Total net returns represent past performance only. Past performance is not a reliable indicator of future performance. Returns of the Fund can be volatile and in some periods may be negative. The return of capital is not guaranteed. Benchmark: MSCI China Index NR.
NR: NR at the end of the benchmark name indicates the return is calculated including reinvesting net dividends. The dividend is reinvested after deduction of withholding tax, applying the withholding tax rate to non-resident individuals who do not benefit from double taxation treaties.
This document is issued by FIL Responsible Entity (Australia) Limited ABN 33 148 059 009, AFSL No. 409340 ("Fidelity Australia"). Fidelity Australia is a member of the FIL Limited group of companies commonly known as Fidelity International.

This document is intended for use by advisers and wholesale investors. Retail investors should not rely on any information in this document without first seeking advice from their financial adviser. This document has been prepared without taking into account your objectives, financial situation or needs. You should consider these matters before acting on the information. You should also consider the relevant Product Disclosure Statements ("PDS") for any Fidelity Australia product mentioned in this document before making any decision about whether to acquire the product. The PDS can be obtained by contacting Fidelity Australia on 1800 119 270 or by downloading it from our website at www.fidelity.com.au. The Target Market Determination (TMD) for Fidelity Australian product(s) can be found at www.Fidelity.com.au. This document may include general commentary on market activity, sector trends or other broad-based economic or political conditions that should not be taken as investment advice. Information stated herein about specific securities is subject to change. Any reference to specific securities should not be taken as a recommendation to buy, sell or hold these securities. While the information contained in this document has been prepared with reasonable care, no responsibility or liability is accepted for any errors or omissions or misstatements however caused. This document is intended as general information only. The document may not be reproduced or transmitted without prior written permission of Fidelity Australia. The issuer of Fidelity's managed investment schemes is FIL Responsible Entity (Australia) Limited ABN 33 148 059 009. Reference to ($) are in Australian dollars unless stated otherwise.
© 2022 FIL Responsible Entity (Australia) Limited. Fidelity, Fidelity International and the Fidelity International logo and F symbol are trademarks of FIL Limited.