Why investment time horizons matter
The ASX Accumulation All Ordinaries Index (All Ords) has generated an impressive 11.4% annualised return since 31/12/1979. Of course, what matters for investors in the Australian equity market is the value of the index the day they buy in, and the value of the index on the day they sell out. Another consideration for investors is the length of time that they intend to hold their investment, as those with a longer time horizon have a greater likelihood of experiencing a positive return. For example, if an investor had bought at the index high before the GFC (on 1/11/2007), 1 year later their investment had fallen in value by 39%. 3 years later, the market was still down by 20%. On the 10 year anniversary of the investment in 2017, it had risen in value by 39%. Today, the value of the investment has appreciated by 67%.
To highlight the importance of time horizon, an analysis of daily returns of the All Ords index since 1979 suggests shows that 100% of investment periods greater than 10 years had appreciated in value. In addition, an impressive 91% of 3 year holding periods generated a positive return. Looking at shorter time horizons, 78% of all one year periods had risen in value, while on any given day there was a 54% probability that the Australian equity market was up.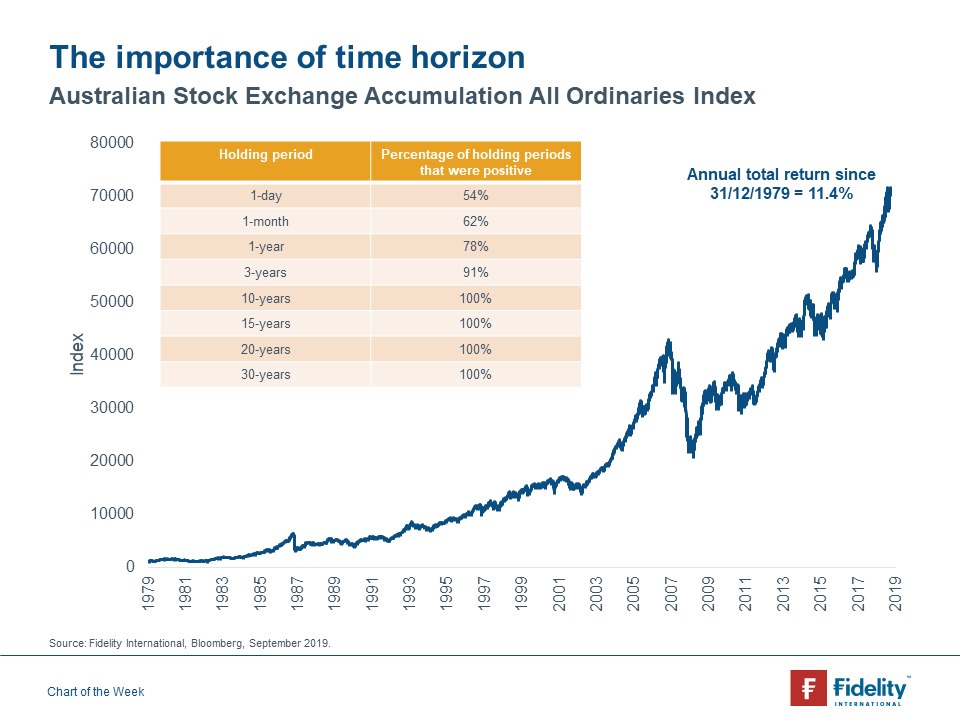 This document is issued by FIL Responsible Entity (Australia) Limited ABN 33 148 059 009, AFSL No. 409340 ("Fidelity Australia"). Fidelity Australia is a member of the FIL Limited group of companies commonly known as Fidelity International.
Prior to making an investment decision, retail investors should seek advice from their financial adviser. This document has been prepared without taking into account your objectives, financial situation or needs. You should consider these matters before acting on the information. You should also consider the relevant Product Disclosure Statements ("PDS") for any Fidelity Australia product mentioned in this document before making any decision about whether to acquire the product. The PDS can be obtained by contacting Fidelity Australia on 1800 119 270 or by downloading it from our website at www.fidelity.com.au. This document may include general commentary on market activity, sector trends or other broad-based economic or political conditions that should not be taken as investment advice. Information stated herein about specific securities is subject to change. Any reference to specific securities should not be taken as a recommendation to buy, sell or hold these securities. While the information contained in this document has been prepared with reasonable care, no responsibility or liability is accepted for any errors or omissions or misstatements however caused. This document is intended as general information only. The document may not be reproduced or transmitted without prior written permission of Fidelity Australia. The issuer of Fidelity's managed investment schemes is FIL Responsible Entity (Australia) Limited ABN 33 148 059 009.
© 2019 FIL Responsible Entity (Australia) Limited. Fidelity, Fidelity International and the Fidelity International logo and F symbol are trademarks of FIL Limited.