Analyst Survey 2022: Japan outlook is still positive but cycle is maturing
Most Japan analysts expect rising returns on capital in 2022, although the country may be later in the business cycle than other regions.
Key takeaways
Robust demand fuels expectations for returns on capital in the year ahead
Inflationary pressures set to rise further, though analysts believe these are largely transitory
Focus on decarbonisation is likely to accelerate as Japanese companies pursue net zero targets
A mild slowdown for Japan's economy in the final quarter of 2021 hasn't taken the shine off expectations for a solid year ahead. Our analysts think that managements at Japanese companies are largely positive about the next 12 months, with over half expecting an increase in the confidence of management teams to invest in their businesses.
Analysts generally expect Japanese firms to maintain robust balance sheets, while three quarters of survey respondents in the country anticipate significant or moderate increases in returns on capital at their companies over the next year, the highest of any region globally. Japan also has the lowest proportion of companies globally needing to raise capital this year.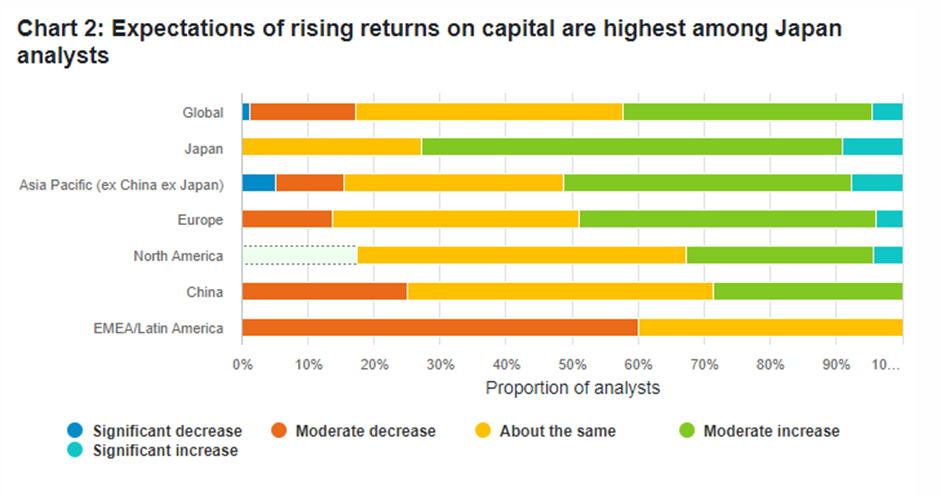 "What is the outlook for overall returns on capital for your companies for the next 12 months versus the last 12 months?" Source: Fidelity International Analyst Survey 2022.
That said, Japan could be closer to the tail end of the business cycle than other regions. A substantial 73 per cent of analysts say the country is currently at the mature stage of an expansion cycle, with 27 per cent forecasting a slowdown in 12 months.
The government forecast in December that the world's third-largest economy would expand by 3.2 per cent in the fiscal year that begins in April, based on a growth spurt that began last autumn driven by resurgent private consumption, easing economic restrictions, and a period of relatively subdued Covid-19 infections. Recently, however, an omicron outbreak prompted the government to downgrade its consumption estimates. Signs of weakness also came through last quarter as corporate spending tightened on plants and equipment, though exports remained strong.
Inflation re-emerges in an economy long used to deflation
Inflationary concerns in Japan, meanwhile, turned sharply higher in the second half of last year, as prices around the world rose on a consumer boom and commodity shortages. Those worries haven't completely receded.
The Bank of Japan warned in January that rising energy costs are likely to spur gradual consumer inflation this year. Our analysts agree. Nearly two thirds report that they expect inflationary pressures to be greater in 2022, a novel threat to corporate margins in an economy long used to stagnant prices.
Still, 55 per cent of our analysts view such pressures as transitory rather than signals of structural malaise. Anecdotal evidence also suggests that cost pressures in some areas could be starting to ease. "The semiconductor shortage, one factor for the cost push, is getting resolved for the auto industry, which I expect is a good leading indicator," says one Japan technology analyst.
Japanese companies in the food sector and smaller consumer businesses, meanwhile, tell our analysts that demand resilience in recent months has put them on a stronger footing to raise prices. "We are passing peak shortages," says an analyst in the healthcare sector.
Increased focus on decarbonisation and technology
A third of analysts covering Japan think that decarbonisation is now a top priority for their companies, when asked to rank it relative to other areas of focus such as growth investment, shareholder returns, and employee welfare. Although this proportion is still relatively low, it compares favourably to the global average of 19 per cent.
Analysts also expect almost 30 per cent of their companies to be carbon neutral by 2030, the highest level of any region. Japan is one of the few regions where this proportion has risen since last year, with most other regions moderating their expectations for 2030 carbon neutrality as the scale of the challenge ahead becomes apparent.
Finally, Japanese companies remain at the forefront of global businesses embracing technology, with 91 per cent of our analysts saying that automation could increase profitability and 73 per cent saying the same for AI. Japan also has the highest proportion of analysts globally - 91 per cent - indicating that they see investing in new technology as the best way to improve corporate resilience in the face of the many challenges ahead.
This document is issued by FIL Responsible Entity (Australia) Limited ABN 33 148 059 009, AFSL No. 409340 ("Fidelity Australia"). Fidelity Australia is a member of the FIL Limited group of companies commonly known as Fidelity International.

This document is intended for use by advisers and wholesale investors. Retail investors should not rely on any information in this document without first seeking advice from their financial adviser. This document has been prepared without taking into account your objectives, financial situation or needs. You should consider these matters before acting on the information. You should also consider the relevant Product Disclosure Statements ("PDS") for any Fidelity Australia product mentioned in this document before making any decision about whether to acquire the product. The PDS can be obtained by contacting Fidelity Australia on 1800 119 270 or by downloading it from our website at www.fidelity.com.au. The Target Market Determination (TMD) for Fidelity Australian product(s) can be found at www.Fidelity.com.au. This document may include general commentary on market activity, sector trends or other broad-based economic or political conditions that should not be taken as investment advice. Information stated herein about specific securities is subject to change. Any reference to specific securities should not be taken as a recommendation to buy, sell or hold these securities. While the information contained in this document has been prepared with reasonable care, no responsibility or liability is accepted for any errors or omissions or misstatements however caused. This document is intended as general information only. The document may not be reproduced or transmitted without prior written permission of Fidelity Australia. The issuer of Fidelity's managed investment schemes is FIL Responsible Entity (Australia) Limited ABN 33 148 059 009. Reference to ($) are in Australian dollars unless stated otherwise.
© 2022 FIL Responsible Entity (Australia) Limited. Fidelity, Fidelity International and the Fidelity International logo and F symbol are trademarks of FIL Limited.