Chart room: Inflation is broader, and stickier
Today's inflation is different from that of a year ago. Then, one-off shocks led to isolated price rises in items like used cars. Now, inflation is spread across a much wider basket of components.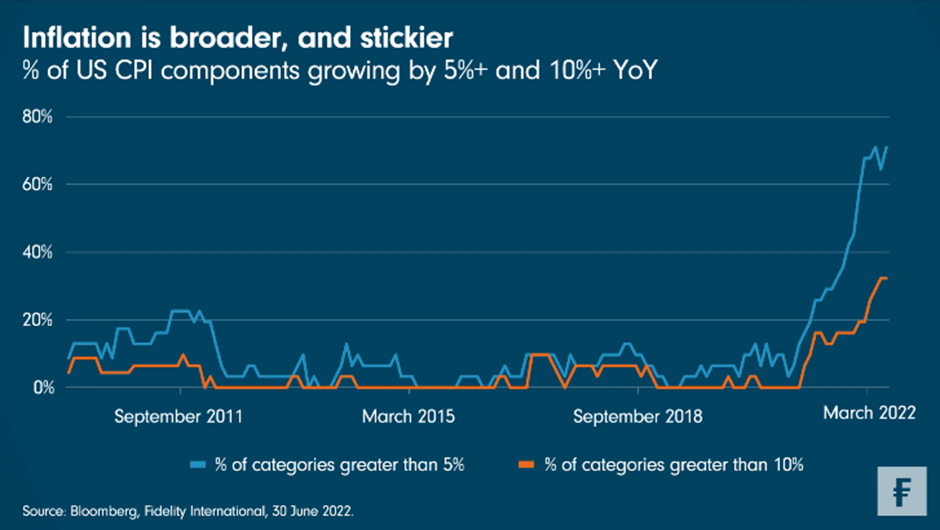 US inflation for June surprised to the upside again, with headline US Consumer Price Index (CPI) inflation reaching a new multi-decade high of 9.1 per cent year-on-year.
That number is alarming in itself but so too is the breadth of components pushing inflation higher.
This week's chart room shows the proportion of CPI components whose prices are rising by over 5 per cent and 10 per cent year-on-year respectively. More than 70 per cent of the components are rising by over 5 per cent, and more than 30 per cent of the components are rising by over 10 per cent a year.
This points to a significantly more varied inflationary basket than was evident a year ago. Then, the thinking was that high levels of inflation were caused principally by one-off impacts stemming from supply-side constraints, such as ports shutting down and Covid-related lockdowns. This was best expressed by the notable strength in used car and truck prices last year. The expectation was that, as supply-side pressures eased, inflation would fall.
Used cars and trucks stuck to their side of the bargain - prices rose by just 1.6 per cent month on month in June this year, compared with 10.1 per cent in June last year. But the concurrent rise in prices across the board shows that today's inflation is broader based, with price rises in services (shelter in particular) gathering significant pace. This suggests inflation is not going to moderate as quickly as markets have been expecting, because services inflation is much stickier than goods inflation.
This document is issued by FIL Responsible Entity (Australia) Limited ABN 33 148 059 009, AFSL No. 409340 ("Fidelity Australia"). Fidelity Australia is a member of the FIL Limited group of companies commonly known as Fidelity International.

This document is intended for use by advisers and wholesale investors. Retail investors should not rely on any information in this document without first seeking advice from their financial adviser. This document has been prepared without taking into account your objectives, financial situation or needs. You should consider these matters before acting on the information. This document has not been specifically prepared for an Australian audience. The document may include general commentary on market activity, sector trends or other broad-based economic or political conditions that should not be taken as investment advice. Information stated herein about specific securities is subject to change. While the information contained in this document has been prepared with reasonable care, no responsibility or liability is accepted for any errors or omissions or misstatements however caused. This document is intended as general information only. The document may not be reproduced or transmitted without prior written permission of Fidelity Australia. The issuer of Fidelity's managed investment schemes is FIL Responsible Entity (Australia) Limited ABN 33 148 059 009.

© 2022 FIL Responsible Entity (Australia) Limited. Fidelity, Fidelity International and the Fidelity International logo and F symbol are trademarks of FIL Limited.