Global debt today is as high as it ever has been. Driven by loose monetary and fiscal policies, leverage is enormous and market dislocations numerous. We are in uncharted territory - anything could happen from here. As stewards of capital, we must strictly guard against complacency and be prepared for any eventuality.

The global financial crisis was, at its core, a debt crisis. It was a critical juncture in a multi-decade period defined by growth and fuelled with debt. Policymakers, seeking to avoid a 1930s-style depression, loosened monetary and fiscal policy in the aftermath of the crisis, but this was not without consequences.

Large scale quantitative easing depressed interest rates and encouraged debt issuance to run rampant. We're now grappling with a wall of leverage and anaemic inflation, leaving little room for interest rate normalisation. In fact, the direction of travel for central banks across the US, Europe and Asia is towards rate cutting. Negative yielding bonds have topped $12.5 trillion which offer a miniscule but insidious erosion of capital.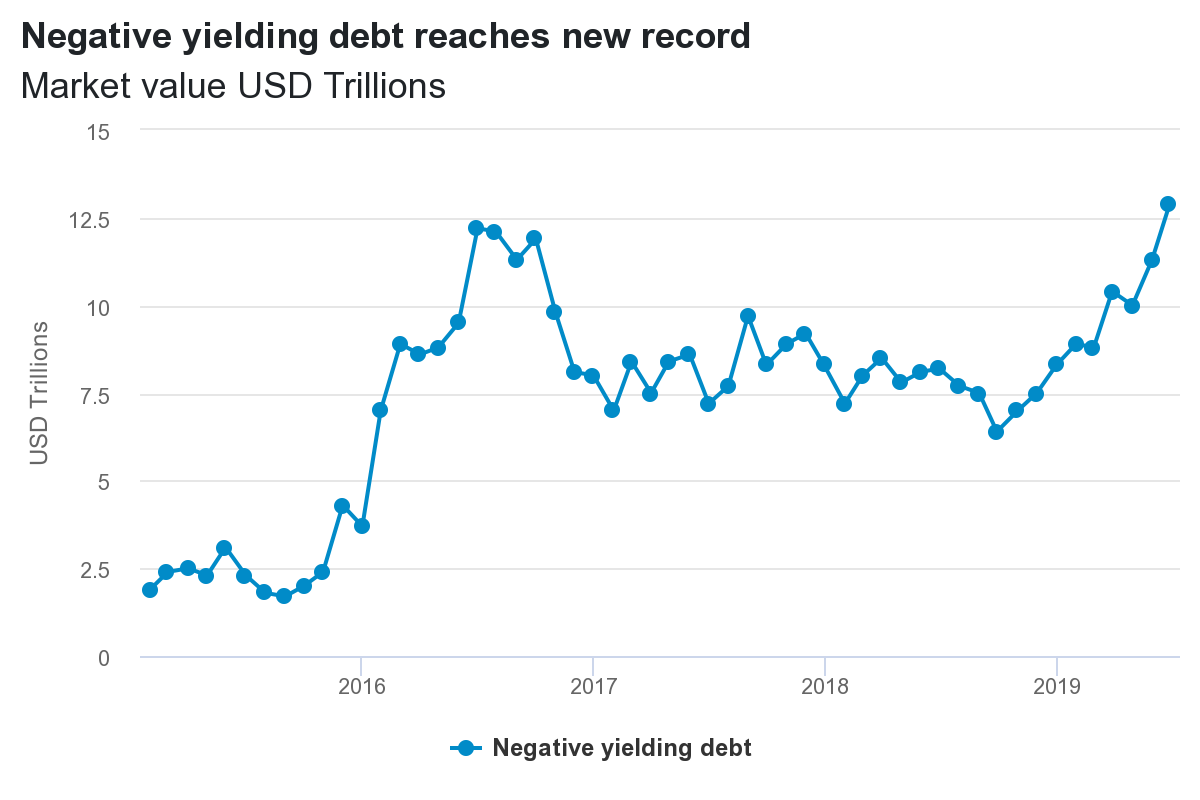 Source: Bloomberg, July 2019
Negative real interest rates have two primary externalities:
They contaminate the cost of capital by driving it down and compromising its efficacy as a signal for worthwhile investment projects.
They lead to speculation in the search for yield and asset price inflation. This has associated costs of exacerbating wealth inequality leading to political and social unrest such as populism.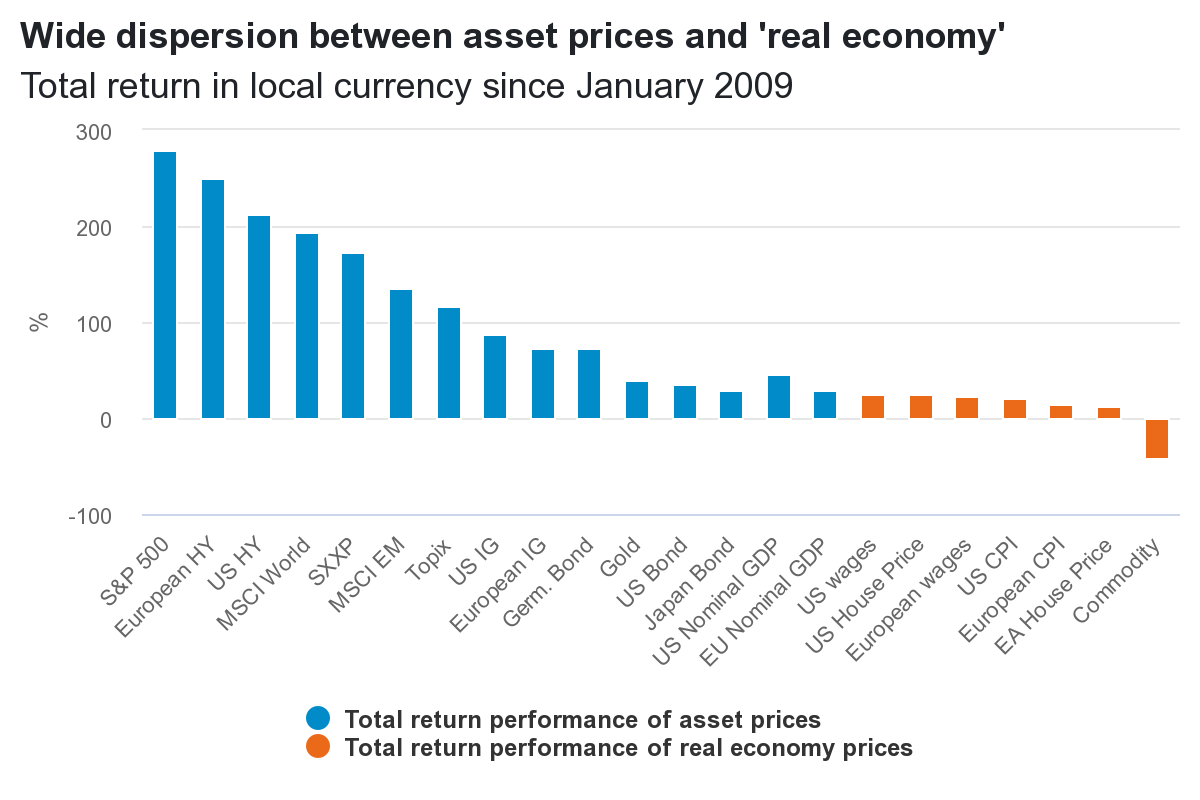 Source: Refinitiv Datastream, Haver Analytics, Goldman Sachs, July 2019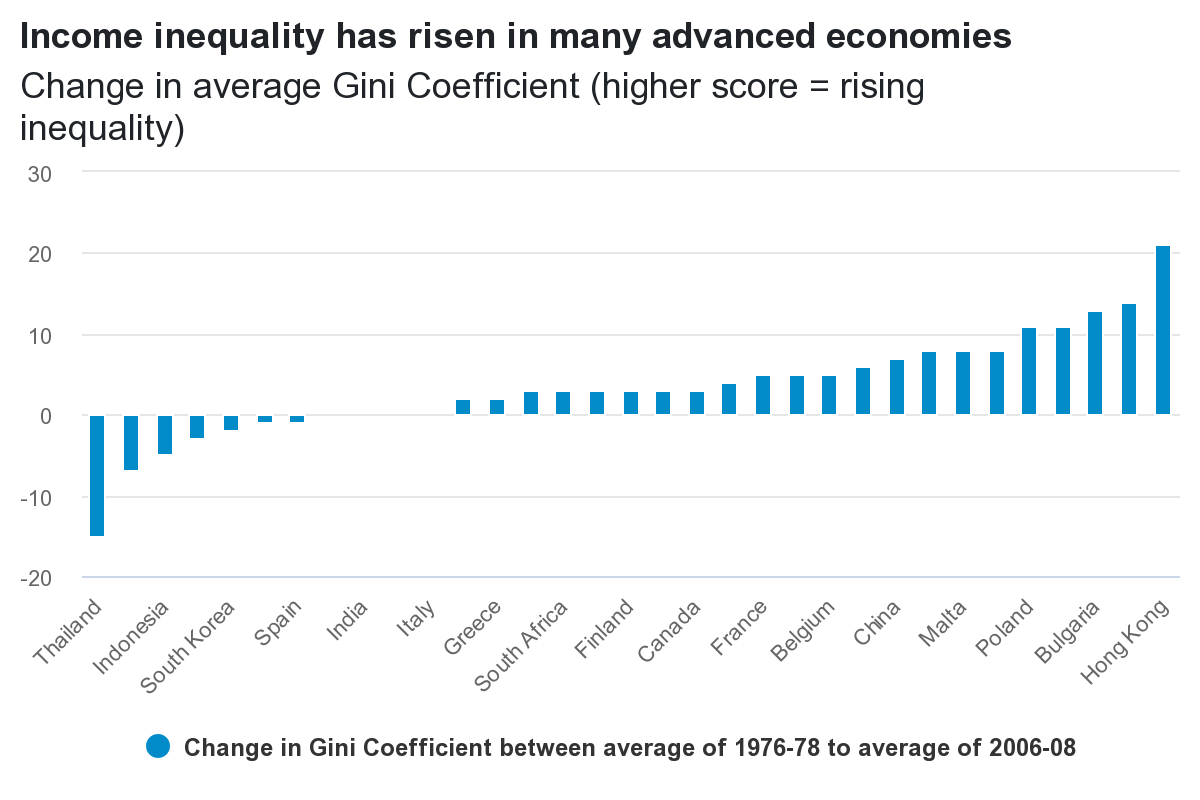 Source: Minack, 2019
I'd argue that the political tensions we're seeing today are rooted more in the financial policies of recent decades than in the current debate around globalisation. The irony is that some politicians are searching for solutions within protectionism instead of addressing monetary and fiscal policy dogmas.

The result is that we see clear examples of the misallocation of capital across different regions and markets. We once accused economies like China of misallocating capital with its 'State Capitalism' system. But the same is evident across free markets; whether that's venture capital funds investing in 'disruptive' projects that don't add economic value, runaway real estate prices in China, Canada and Australia, or a preponderance of expensive but unprofitable disruptors with no clear timeline to profitability such as Tesla, Uber and Revolut. In its IPO document, Uber even warned that it 'may not achieve profitability', ever!
'Japanification'
The consequence of this delinking between prices and value is a sort of 'Japanification' of developed markets, so-called because of the high debt, low growth and low inflation that's characterised Japan for the past 30 years following the post-war boom. Today, Japan still suffers from 'zombie' companies, which only survive because of the availability of cheap refinancing.

The challenge to traditional public companies is not so much from the rise of China - it's already captured the lion's share of industrial output - but rather from venture capital funds that have the financial firepower to confront and defeat incumbents. This Schumpeterian revolution of 'creative destruction', where economic progress means turmoil, is unfolding before us. One example is the gutting of high street retail grandees by online upstarts.
'Slobalisation'
What is certain is that globalisation is slowing. When Donald Trump became US president in November 2016, global trade started to reaccelerate, but that's now slowing down, most likely due to a simple case of economic gravity rather than intended policy. We are in a late cycle environment, which, combined with a declining working age population, will restrict growth potential.

For investors, this is uncharted territory. Any direct comparison with the past is problematic because there are few historical reference periods with similar dynamics - for example, an economic review finds no meaningful instances of negative interest rates back to at least 2000 BC.

The rising market could continue, and it's tempting to sit back and enjoy the ride, but that shouldn't be done naïvely. The markets are bathing in blissful complacency, which usually foreshadows a rude awakening. So far, we have muddled through these unprecedented conditions, but as asset managers we must factor in the risks. We have to look forward, favour a quality bias and be ready to act swiftly for whatever the result will be.
This document is issued by FIL Responsible Entity (Australia) Limited ABN 33 148 059 009, AFSL No. 409340 ("Fidelity Australia"). Fidelity Australia is a member of the FIL Limited group of companies commonly known as Fidelity International.
This document is intended for use by advisers and wholesale investors. Retail investors should not rely on any information in this document without first seeking advice from their financial adviser. This document has been prepared without taking into account your objectives, financial situation or needs. You should consider these matters before acting on the information. You should also consider the relevant Product Disclosure Statements ("PDS") for any Fidelity Australia product mentioned in this document before making any decision about whether to acquire the product. The PDS can be obtained by contacting Fidelity Australia on 1800 119 270 or by downloading it from our website at www.fidelity.com.au. This document may include general commentary on market activity, sector trends or other broad-based economic or political conditions that should not be taken as investment advice. Information stated herein about specific securities is subject to change. Any reference to specific securities should not be taken as a recommendation to buy, sell or hold these securities. While the information contained in this document has been prepared with reasonable care, no responsibility or liability is accepted for any errors or omissions or misstatements however caused. This document is intended as general information only. Investments in overseas markets can be affected by currency exchange and this may affect the value of your investment. Investments in small and emerging markets can be more volatile than investments in developed markets. The document may not be reproduced or transmitted without prior written permission of Fidelity Australia. The issuer of Fidelity's managed investment schemes is FIL Responsible Entity (Australia) Limited ABN 33 148 059 009.
© 2019 FIL Responsible Entity (Australia) Limited. Fidelity, Fidelity International and the Fidelity International logo and F symbol are trademarks of FIL Limited.