Expectations around rising input costs are starting to moderate
Our analysts see tentative signs that companies' cost pressures may soon ease, but the pressure on central banks will nevertheless remain high.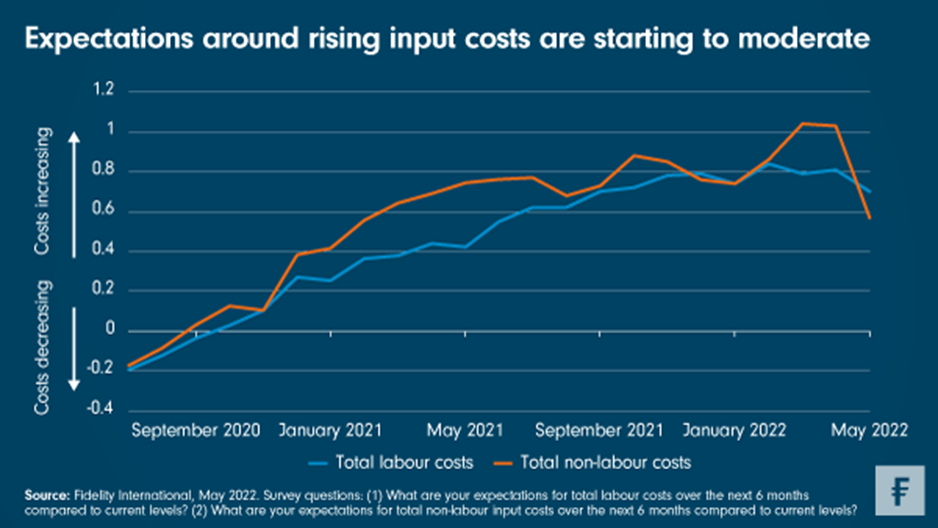 Expectations around input cost rises have begun to moderate, according to Fidelity International's latest analyst survey. On average, our 161 analysts surveyed worldwide expect both labour and non-labour costs will increase over the next six months, but to a lesser degree than in previous months, suggesting that inflationary pressures may be starting to ease.
The weighted average of analysts' non-labour cost expectations fell last month in every sector except healthcare. Within certain sectors, there are even expectations of falling costs: a small proportion of analysts looking at materials and information technology companies expect a moderate decrease in non-labour costs over the next six months.
Any sign of easing costs would be embraced by economies which have faced 18 months of consecutive price increases, with cost bases now much higher than they were pre-pandemic. It would also give central banks some wiggle room when setting monetary policy. Even if inflationary pressures do abate, however, a weak global growth outlook means stagflation remains a realistic prospect.
Moreover, our survey shows that expectations around labour costs are moderating more slowly than non-labour costs, while the recent positive non-farm payroll figures in the US show labour markets remain tight, increasing the risk of rising wage pressures.
This document is issued by FIL Responsible Entity (Australia) Limited ABN 33 148 059 009, AFSL No. 409340 ("Fidelity Australia"). Fidelity Australia is a member of the FIL Limited group of companies commonly known as Fidelity International.

This document is intended for use by advisers and wholesale investors. Retail investors should not rely on any information in this document without first seeking advice from their financial adviser. This document has been prepared without taking into account your objectives, financial situation or needs. You should consider these matters before acting on the information. You should also consider the relevant Product Disclosure Statements ("PDS") for any Fidelity Australia product mentioned in this document before making any decision about whether to acquire the product. The PDS can be obtained by contacting Fidelity Australia on 1800 119 270 or by downloading it from our website at www.fidelity.com.au. The Target Market Determination (TMD) for Fidelity Australian product(s) can be found at www.Fidelity.com.au. This document may include general commentary on market activity, sector trends or other broad-based economic or political conditions that should not be taken as investment advice. Information stated herein about specific securities is subject to change. Any reference to specific securities should not be taken as a recommendation to buy, sell or hold these securities. While the information contained in this document has been prepared with reasonable care, no responsibility or liability is accepted for any errors or omissions or misstatements however caused. This document is intended as general information only. The document may not be reproduced or transmitted without prior written permission of Fidelity Australia. The issuer of Fidelity's managed investment schemes is FIL Responsible Entity (Australia) Limited ABN 33 148 059 009. Reference to ($) are in Australian dollars unless stated otherwise.
© 2022 FIL Responsible Entity (Australia) Limited. Fidelity, Fidelity International and the Fidelity International logo and F symbol are trademarks of FIL Limited.