A tighter relationship between US and Australian equities?
As a small open economy, monetary policy decisions made in other parts of the world matter for Australia. In particular, the actions of the United States Federal Reserve have the potential to cause significant market moves, given the importance of the US in global capital markets. Changes in monetary policy elsewhere tend to quickly manifest in foreign exchange markets, thereby impacting financial conditions as the Australian dollar rises or falls. An increase in policy rates elsewhere will, all else equal, tend to put downward pressure on the Australian dollar, because capital is likely to be attracted to the higher rates of return available abroad. A depreciation of the Australian dollar in turn will tend to enhance the competitiveness of our exporters, including those services priced in Australian dollars like tourism and education. Through various channels, exchange rate depreciation can also loosen financial conditions in Australia and vice versa.
The positive news of vaccine developments in November has increased risk appetite amongst global investors. Inflation expectations have risen, risk assets like equities have continued to rally, and the Australia Dollar has gained against the US dollar from 0.70 in early November to 0.77 today. It appears that monetary policy in both the US and Australia will be on hold for some time but despite this, the Australian dollar may continue to appreciate this year. The Fed has committed to inflation averaging and keeping the funds rate close to zero through to 2023. Additionally, with real yields already negative and at all-time lows, higher inflation could reduce demand for US assets, which in turn could affect demand for the USD as a safe haven currency.
To highlight the impact of US monetary policy on Australian assets, consider the below chart. The first shows the correlation between the US S&P500 and the S&P/ASX200, highlighting periods of QE 1-5 and Quantitative Easing (QE) reversal. Prior to 2009, US and Australian equities were moderately correlated, suggesting that local domestic conditions had a considerable impact on market moves. During QE1, QE2 and QE5 the correlation spiked, with markets becoming highly correlated. Interestingly, during the taper tantrum, US interest rate hikes and QE reversal of 18-19 the correlation between both markets weakened as financial conditions tightened, bond yields rose and the US dollar appreciated.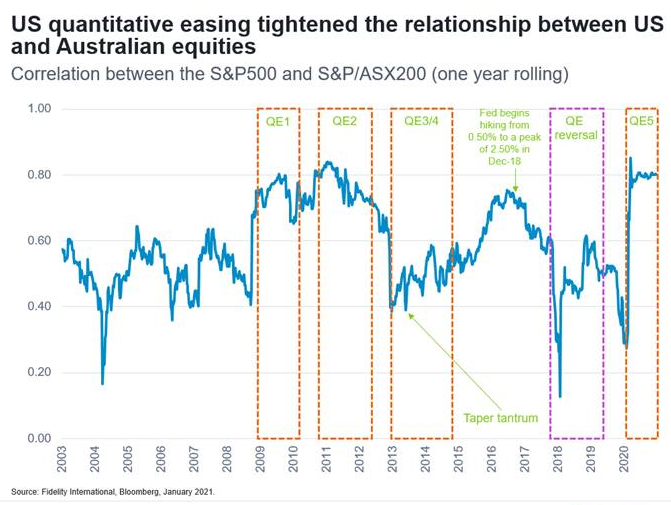 With Fed Chairman Jay Powell confirming overnight that accommodative US monetary policy will be a feature of the investment landscape for the next few years, it appears that the high correlation between US and Australian equities could persist for some time to come. The Reserve Bank of Australia will be monitoring developments closely, and will be wary of any potential tightening of financial conditions that results from a rising Australian Dollar and rebounding economy.
This document is issued by FIL Responsible Entity (Australia) Limited ABN 33 148 059 009, AFSL No. 409340 ("Fidelity Australia"). Fidelity Australia is a member of the FIL Limited group of companies commonly known as Fidelity International.

This document is intended for use by advisers and wholesale investors. Retail investors should not rely on any information in this document without first seeking advice from their financial adviser. This document has been prepared without taking into account your objectives, financial situation or needs. You should consider these matters before acting on the information. You should also consider the relevant Product Disclosure Statements ("PDS") for any Fidelity Australia product mentioned in this document before making any decision about whether to acquire the product. The PDS can be obtained by contacting Fidelity Australia on 1800 119 270 or by downloading it from our website at www.fidelity.com.au. This document may include general commentary on market activity, sector trends or other broad-based economic or political conditions that should not be taken as investment advice. Information stated herein about specific securities is subject to change. This document may contain statements that are "forward-looking statements", which are based on certain assumptions of future events. Actual events may differ from those assumed. There can be no assurance that forward-looking statements, including any projected returns, will materialise or that actual market conditions and/or performance results will not be materially different or worse than those presented. Any reference to specific securities should not be taken as a recommendation to buy, sell or hold these securities. While the information contained in this document has been prepared with reasonable care, no responsibility or liability is accepted for any errors or omissions or misstatements however caused. This document is intended as general information only. The document may not be reproduced or transmitted without prior written permission of Fidelity Australia. The issuer of Fidelity's managed investment schemes is FIL Responsible Entity (Australia) Limited ABN 33 148 059 009. Reference to ($) are in Australian dollars unless stated otherwise.

© 2021 FIL Responsible Entity (Australia) Limited. Fidelity, Fidelity International and the Fidelity International logo and F symbol are trademarks of FIL Limited.