Emerging markets and the reopening trade
So far, the global economic recovery from the Covid-19 fallout has been led by developed markets and emerging Asia, spearheaded by China. Looking ahead, we think the catchup trade could ripple out across other emerging markets, driven by the availability of vaccines, the reflationary impulse from China and developed markets, and the lagged impact of monetary easing.
Emerging EMEA (Europe, Middle East and Africa) and Latin American stocks are particularly well positioned to reap the benefits of these trends. This week's Chart Room looks at the regions with the largest exposure to the re-opening of economies globally, based on those markets with relatively high weightings to cyclical stocks like financials and commodities.
Emerging markets and reopening trade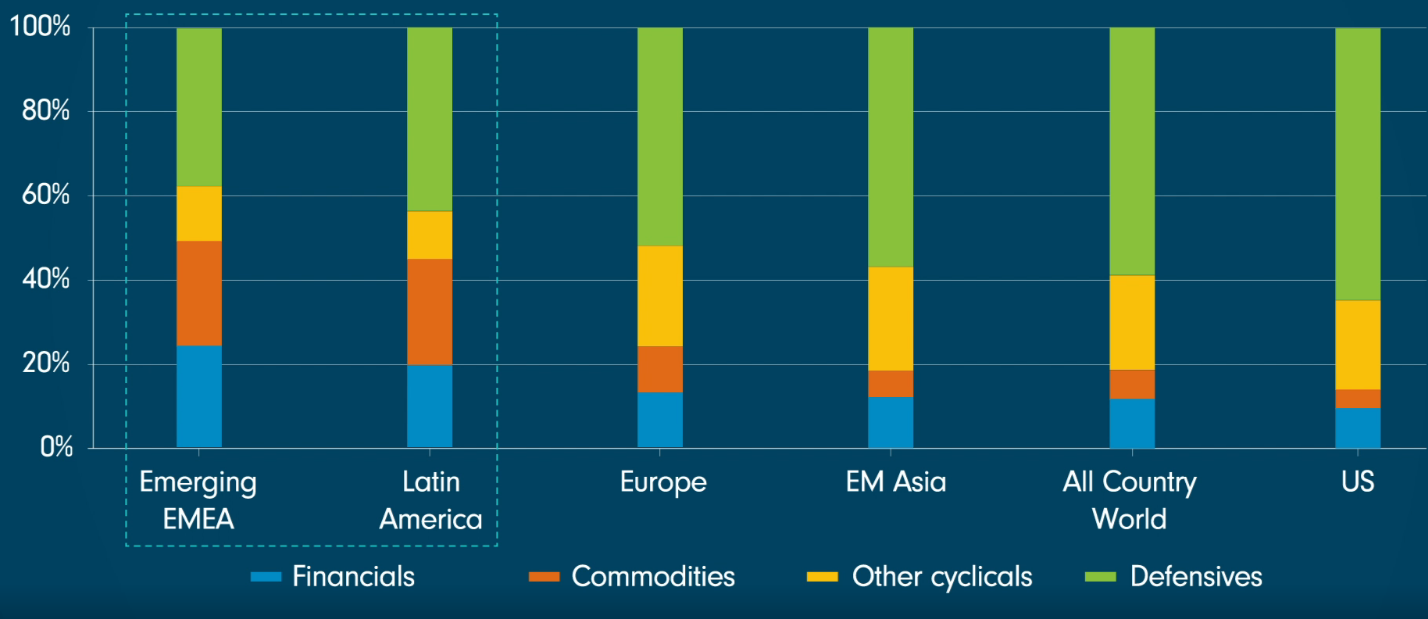 Source: Fidelity International, MSCI, February 2021. Defensives classification includes: IT, utilities, healthcare, staples and communication services. Other cyclicals classification includes: industrials, real estate and discretionary. Commodities includes: Metals and energy.
Consider Latin American economies, which bottomed in April and May amid social mobility restrictions imposed as a result of the coronavirus outbreak. More recently, governments have begun to gradually open economies, as the number of new cases starts to stabilise. While it will take time for these countries to return to a sense of normality, there are promising signs of recovery.
As sentiment towards Latin America and EMEA regions improves, supported by a pick-up in activity as well as inflationary support for commodities, we could see a sharp re-rating of stocks in these markets from these historically low valuations. Nonetheless, selectivity remains paramount, given the differing levels of strength amongst sovereign (and also corporate) balance sheets.
Moreover, the unprecedented levels of government stimulus globally are also likely to raise inflationary pressures. As these pressures mount, many commodities can provide a natural inflationary hedge, underpinning the case for selective exposure to commodity rich regions like Latin America and EMEA.
This document is issued by FIL Responsible Entity (Australia) Limited ABN 33 148 059 009, AFSL No. 409340 ("Fidelity Australia"). Fidelity Australia is a member of the FIL Limited group of companies commonly known as Fidelity International.
This document is intended for use by advisers and wholesale investors. Retail investors should not rely on any information in this document without first seeking advice from their financial adviser. This document has been prepared without taking into account your objectives, financial situation or needs. You should consider these matters before acting on the information. You should also consider the relevant Product Disclosure Statements ("PDS") for any Fidelity Australia product mentioned in this document before making any decision about whether to acquire the product. The PDS can be obtained by contacting Fidelity Australia on 1800 119 270 or by downloading it from our website at This document may include general commentary on market activity, sector trends or other broad-based economic or political conditions that should not be taken as investment advice. Information stated herein about specific securities is subject to change. Any reference to specific securities should not be taken as a recommendation to buy, sell or hold these securities. While the information contained in this document has been prepared with reasonable care, no responsibility or liability is accepted for any errors or omissions or misstatements however caused. This document is intended as general information only. The document may not be reproduced or transmitted without prior written permission of Fidelity Australia. The issuer of Fidelity's managed investment schemes is FIL Responsible Entity (Australia) Limited ABN 33 148 059 009. Reference to ($) are in Australian dollars unless stated otherwise.
© 2021 FIL Responsible Entity (Australia) Limited. Fidelity, Fidelity International and the Fidelity International logo and F symbol are trademarks of FIL Limited.
Ready to invest in the Fidelity Global Emerging Markets Fund?
Discover now